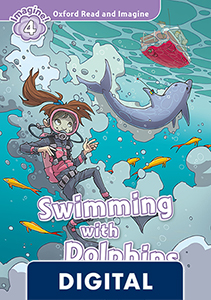 Oxford Read and Imagine 4. Swimming with Dolphins (OLB eBook)
Serie: Oxford Read and Imagine
ISBN: 9780194757805
Curso: Stage 4
Etapa: Stage 4
Idioma: Inglés
Asignatura: Lengua extranjera: inglés
Comunidad Autónoma: Todas, Región de Murcia, Principado de Asturias, País Vasco, Navarra, Madrid, La Rioja, Islas Baleares, Galicia, Extremadura, Comunidad Valenciana, Ciudad de Melilla, Ciudad de Ceuta, Cataluña, Castilla - La Mancha, Castilla y León, Cantabria, Canarias, Aragón, Andalucía
Autor: Paul Shipton
Caducidad: Sin fecha de caducidad
Dan the scientist works with dolphins. Ludo the dolphin is under the water and can't breathe, so Rosie dives in to help him. But what happens? The sea can be dangerous - there might be sharks!
Dan, el científico, trabaja con delfines. Ludo el delfín está bajo el agua y no puede respirar así que Rosie bucea para ayudarle. Pero ¿qué pasa después? El mar puede ser peligroso, ¡podría haber tiburones!
Este libro digital se visualiza a través de la aplicación Oxford Learner's Bookshelf. La app es gratuita y está disponible tanto en el App Store como en Google Play. Dispone también de funcionalidad offline, por lo que el alumno o el profesor pueden trabajar, estudiar y hacer ejercicios, aunque no dispongan conectividad. Compatible con tabletas Android y iPads.
Requisitos mínimos: OLB v5.8.1. Usuarios iOS: iOS versión 7.0 o superior, iPadOS 12.0 o posteriores. Usuarios Android: Android 6.0 o superior.