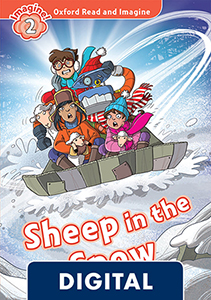 Oxford Read and Imagine 2. Sheep in the Snow (OLB eBook)
Serie: Oxford Read and Imagine
ISBN: 9780194753395
Curso: Stage 2
Etapa: Stage 2
Idioma: Inglés
Asignatura: Lengua extranjera: inglés
Comunidad Autónoma: Todas, Región de Murcia, Principado de Asturias, País Vasco, Navarra, Madrid, La Rioja, Islas Baleares, Galicia, Extremadura, Comunidad Valenciana, Ciudad de Melilla, Ciudad de Ceuta, Cataluña, Castilla - La Mancha, Castilla y León, Cantabria, Canarias, Aragón, Andalucía
Autor: Paul Shipton
Caducidad: Sin fecha de caducidad
Ben, Rosie, and Alice are at Aunt Katy's farm. It's snowing, and some sheep are up on the hills. How can the children help?
Ben, Rosie y Alice están en la granja de la tía Katy. Está nevando y algunas ovejas se han quedado en los montes. ¿Cómo las podrán ayudar?
Este libro digital se visualiza a través de la aplicación Oxford Learner's Bookshelf. La app es gratuita y está disponible tanto en el App Store como en Google Play. Dispone también de funcionalidad offline, por lo que el alumno o el profesor pueden trabajar, estudiar y hacer ejercicios, aunque no dispongan conectividad. Compatible con tabletas Android y iPads.
Requisitos mínimos: OLB v3.1.3. Usuarios iOS: iOS versión 7.0 o superior, iPad 2 o posteriores. Usuarios Android: Android 4.1 o superior.