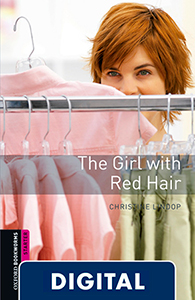 Oxford Bookworms Starter. The Girl with Red Hair (OLB eBook)
Serie: Bookworms
ISBN: 9780194654517
Curso: Starter
Etapa: Starter
Idioma: Inglés
Asignatura: Lengua extranjera: inglés
Comunidad Autónoma: Todas, Región de Murcia, Principado de Asturias, País Vasco, Navarra, Madrid, La Rioja, Islas Baleares, Galicia, Extremadura, Comunidad Valenciana, Ciudad de Melilla, Ciudad de Ceuta, Cataluña, Castilla - La Mancha, Castilla y León, Cantabria, Canarias, Aragón, Andalucía
Autor: Christine Lindop
Caducidad: Sin fecha de caducidad
SYNOPSIS
?How can Mr Frank be angry now?? thinks Mike happily. His film is good and he is the only cameraman on the volcano. Now he can go home. But then he finds Jenny and she is dying. Rocks start to move and Mike is afraid. Can they get off the volcano alive? And what happens to Mike?s camera and film?
SINOPSIS
?¿Cómo puede Mr. Frank estar enfadada ahora?? piensa Mike felizmente. Su película es buena y es el único cámara en el volcán. Ahora puede ir a casa. Pero entonces se encuentra a Jenny que se está muriendo. Las rocas se empiezan a mover y Mike tiene miedo. ¿Podrán salir del volcán vivos? ¿Y qué pasará con la cámara y la película de Mike?
Este libro digital se visualiza a través de la aplicación Oxford Learner's Bookshelf. La app es gratuita y está disponible tanto en el App Store como en Google Play. Dispone también de funcionalidad offline, por lo que el alumno o el profesor pueden trabajar, estudiar y hacer ejercicios, aunque no dispongan conectividad. Compatible con tabletas Android y iPads.
Requisitos mínimos: OLB v5.8.1. Usuarios iOS: iOS versión 7.0 o superior, iPadOS 12.0 o posteriores. Usuarios Android: Android 6.0 o superior.