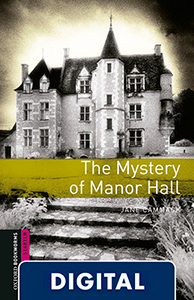 Oxford Bookworms Starter. The Mystery of Manor Hall (OLB eBook)
Serie: Bookworms
ISBN: 9780194654593
Curso: Starter
Etapa: Starter
Idioma: Inglés
Asignatura: Lengua extranjera: inglés
Comunidad Autónoma: Todas, Región de Murcia, Principado de Asturias, País Vasco, Navarra, Madrid, La Rioja, Islas Baleares, Galicia, Extremadura, Comunidad Valenciana, Ciudad de Melilla, Ciudad de Ceuta, Cataluña, Castilla - La Mancha, Castilla y León, Cantabria, Canarias, Aragón, Andalucía
Autor: Jane Cammack
Caducidad: Sin fecha de caducidad
SYNOPSIS
?Who is the man with the roses in his hand?? thinks Anna. ?I want to meet him.? ?Who is the girl with the guitar?? thinks Will. ?I like her. I want to meet her.? But they do not meet. ?There are lots of men!? says Anna?s friend Vicki, but Anna cannot forget Will. And then one rainy day?
SINOPSIS
?¿Quién es el hombre con las rosas en la mano?? pensó Ana. ?Quiero conocerlo? ?¿Quién es la chica de la guitara?? pensó Will. ?Me gusta, quiero conocerla? Pero no se conocen ?¡Hay muchos hombres!? dijo Vicky, la amiga de Anna, pero Anna no puede olvidar a Will. Y de repente un día de lluvia?
Este libro digital se visualiza a través de la aplicación Oxford Learner's Bookshelf. La app es gratuita y está disponible tanto en el App Store como en Google Play. Dispone también de funcionalidad offline, por lo que el alumno o el profesor pueden trabajar, estudiar y hacer ejercicios, aunque no dispongan conectividad. Compatible con tabletas Android y iPads.
Requisitos mínimos: OLB v5.8.1. Usuarios iOS: iOS versión 7.0 o superior, iPadOS 12.0 o posteriores. Usuarios Android: Android 6.0 o superior.