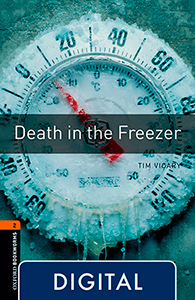 Oxford Bookworms 2. Death in the Freezer (OLB eBook)
Serie: Bookworms
ISBN: 9780194655996
Curso: Stage 2
Etapa: Stage 2
Idioma: Inglés
Asignatura: Lengua extranjera: inglés
Comunidad Autónoma: Todas, Región de Murcia, Principado de Asturias, País Vasco, Navarra, Madrid, La Rioja, Islas Baleares, Galicia, Extremadura, Comunidad Valenciana, Ciudad de Melilla, Ciudad de Ceuta, Cataluña, Castilla - La Mancha, Castilla y León, Cantabria, Canarias, Aragón, Andalucía
Autor: Tim Vicary
Caducidad: Sin fecha de caducidad
SYNOPSIS
Richard Walton is in trouble again. He has lost his job, and he has borrowed money from his sister, Jennifer ? again. And now he has disappeared. Jennifer is looking for him, and so are the police. They both have some questions that they want to ask him. How did he lose his job? Why did he fly to Frankfurt? Who gave his girlfriend those very expensive gold ear-rings? Only Richard can answer these questions. But nobody can find Richard.
SINOPSIS
Richard Walton está otra vez metido en un lío. Ha perdido su trabajo, y ha tomado prestado dinero de su hermana Jennifer. Ahora está desaparecido, Jennifer y la policía lo está buscando. Ambos tienen unas preguntas que hacerle. ¿Cómo perdió el trabajo? ¿Por qué se fue a Frankfurt? ¿Quién le regalo a su novia esos pendientes tan caros? Sólo Richard puede responder a esas preguntas, pero nadie puede encontrar a Richard.
Este libro digital se visualiza a través de la aplicación Oxford Learner's Bookshelf. La app es gratuita y está disponible tanto en el App Store como en Google Play. Dispone también de funcionalidad offline, por lo que el alumno o el profesor pueden trabajar, estudiar y hacer ejercicios, aunque no dispongan conectividad. Compatible con tabletas Android y iPads.
Requisitos mínimos: OLB v3.1.3. Usuarios iOS: iOS versión 7.0 o superior, iPad 2 o posteriores. Usuarios Android: Android 4.1 o superior.