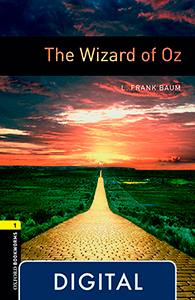 Oxford Bookworms 1. The Wizard of Oz (OLB eBook)
Serie: Bookworms
ISBN: 9780194655378
Curso: Stage 1
Etapa: Stage 1
Idioma: Inglés
Asignatura: Lengua extranjera: inglés
Comunidad Autónoma: Todas, Región de Murcia, Principado de Asturias, País Vasco, Navarra, Madrid, La Rioja, Islas Baleares, Galicia, Extremadura, Comunidad Valenciana, Ciudad de Melilla, Ciudad de Ceuta, Cataluña, Castilla - La Mancha, Castilla y León, Cantabria, Canarias, Aragón, Andalucía
Autor: Frank Baum
Caducidad: Sin fecha de caducidad
SYNOPSIS
Dorothy lives in Kansas, USA, but one day a cyclone blows her and her house to a strange country called Oz. There, Dorothy makes friends with the Scarecrow, the Tin Man, and the Cowardly Lion. But she wants to go home to Kansas. Only one person can help her, and that is the country?s famous Wizard. So Dorothy and her friends take the yellow brick road to the Emerald City, to find the Wizard of Oz?
SINOPSIS
Dorothy vive en Kansas, USA, pero un día un ciclón le lleva a ella y a su casa a una extraña ciudad llamada Oz. Allí, Dorothy se hace amigos de un espantapájaros, del hombre de hojalata, y del león cobarde. Pero ella quiere irse a su casa de Kansas. Sólo una persona puede ayudarla, y esa persona es el famoso mago de la ciudad. Entonces Dorothy y sus amigos toman el camino de ladrillos amarillos hacia la Ciudad Esmeralda, para encontrar al mago de Oz.
Este libro digital se visualiza a través de la aplicación Oxford Learner's Bookshelf. La app es gratuita y está disponible tanto en el App Store como en Google Play. Dispone también de funcionalidad offline, por lo que el alumno o el profesor pueden trabajar, estudiar y hacer ejercicios, aunque no dispongan conectividad. Compatible con tabletas Android y iPads.
Requisitos mínimos: OLB v5.8.1. Usuarios iOS: iOS versión 7.0 o superior, iPadOS 12.0 o posteriores. Usuarios Android: Android 6.0 o superior.