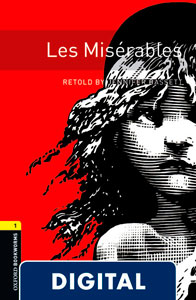 Oxford Bookworms 1. Les Miserables (OLB eBook)
Serie: Bookworms
ISBN: 9780194655620
Curso: Stage 1
Etapa: Stage 1
Idioma: Inglés
Asignatura: Lengua extranjera: inglés
Comunidad Autónoma: Todas, Región de Murcia, Principado de Asturias, País Vasco, Navarra, Madrid, La Rioja, Islas Baleares, Galicia, Extremadura, Comunidad Valenciana, Ciudad de Melilla, Ciudad de Ceuta, Cataluña, Castilla - La Mancha, Castilla y León, Cantabria, Canarias, Aragón, Andalucía
Autor: Victor Hugo - Retold by Jenifer Bassett
Caducidad: Sin fecha de caducidad
SYNOPSIS
France, 1815. Jean Valjean leaves prison after nineteen years. These are dangerous and troubled times, and life is hard. Valjean must begin a new life, but how can he escape his past, and his enemy, Inspector Javert? This story for Bookworms is loosely based on the famous novel Les Misérables by Victor Hugo, one of France?s greatest writers. The novel was written in 1862, and the story has been retold many times ? in a musical, in plays for radio and theatre, and in more than fifty films for television and cinema.
SINOPSIS
Francia 1815, Jean Valjean sale de la cárcel después de 19 años. Es una época de peligros y problemas, y la vida es complicada. Valjean debe empezar una nueva vida, pero ¿cómo puede escapar de su pasado, y de su enemigo, el inspector Javert? Esta historia de Bookworms se basa en la famosa novela de Les Misérables by Victor Hugo, uno de los mejores escritores franceses. La novela fue escrita en 1862, y la historia ha sido contada muchas veces- en un musical, en interpretaciones para radio y teatro, y en más de 50 películas para televisión y cine.
Este libro digital se visualiza a través de la aplicación Oxford Learner's Bookshelf. La app es gratuita y está disponible tanto en el App Store como en Google Play. Dispone también de funcionalidad offline, por lo que el alumno o el profesor pueden trabajar, estudiar y hacer ejercicios, aunque no dispongan conectividad. Compatible con tabletas Android y iPads.
Requisitos mínimos: OLB v3.1.3. Usuarios iOS: iOS versión 7.0 o superior, iPad 2 o posteriores. Usuarios Android: Android 4.1 o superior.