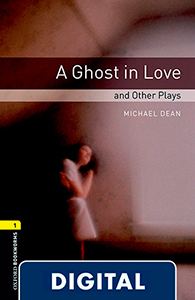 Oxford Bookworms 1. A Ghost in Love and Other Plays. (OLB eBook)
Serie: Bookworms
ISBN: 9780194657099
Curso: Stage 1
Etapa: Stage 1
Idioma: Inglés
Asignatura: Lengua extranjera: inglés
Comunidad Autónoma: Todas, Región de Murcia, Principado de Asturias, País Vasco, Navarra, Madrid, La Rioja, Islas Baleares, Galicia, Extremadura, Comunidad Valenciana, Ciudad de Melilla, Ciudad de Ceuta, Cataluña, Castilla - La Mancha, Castilla y León, Cantabria, Canarias, Aragón, Andalucía
Autor: Michael Dean
Caducidad: Sin fecha de caducidad
SYNOPSIS
Do you believe in ghosts? Jerry doesn?t. He?s a nineteen-year-old American, who just wants a good holiday with his friend, Brad. They are travelling round the north of England by bicycle. But strange things begin to happen in the small hotel where they are staying. First, Brad seems to think that he has been there before. And then a girl called Ellen appears? The first of these three original plays is set in the seventeenth century, and the other two take place in modern times. In each play, a ghost comes back from the dead to change the lives of living people.
SINOPSIS
¿Crees en los fantasmas? Jerry no. Él es un americano de diecinueve años, que solo quiere unas buenas vacaciones con su amigo Brad. Ellos viajan por el norte de Inglaterra en bici. Pero entonces empiezan a ocurrir cosas extrañas en el pequeño hotel en el que están hospedados. Primero, a Brad le parece haber estado en ese sitio antes. Y entonces una chica llamada Ellen aparece?La primera de estas tres obras originales tiene lugar en el siglo 17, y las otras dos la modernidad. En cada obra, un fantasma regresa de entre los muertos para cambiarle la vida a algún vivo.
Este libro digital se visualiza a través de la aplicación Oxford Learner's Bookshelf. La app es gratuita y está disponible tanto en el App Store como en Google Play. Dispone también de funcionalidad offline, por lo que el alumno o el profesor pueden trabajar, estudiar y hacer ejercicios, aunque no dispongan conectividad. Compatible con tabletas Android y iPads.
Requisitos mínimos: OLB v5.8.1. Usuarios iOS: iOS versión 7.0 o superior, iPadOS 12.0 o posteriores. Usuarios Android: Android 6.0 o superior.