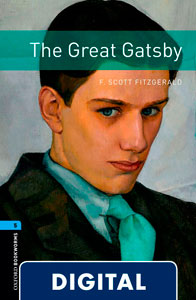 Oxford Bookworms 5. The Great Gatsby (OLB eBook)
Serie: Bookworms
ISBN: 9780194657624
Curso: Stage 5
Etapa: Stage 5
Idioma: Inglés
Asignatura: Lengua extranjera: inglés
Comunidad Autónoma: Todas, Región de Murcia, Principado de Asturias, País Vasco, Navarra, Madrid, La Rioja, Islas Baleares, Galicia, Extremadura, Comunidad Valenciana, Ciudad de Melilla, Ciudad de Ceuta, Cataluña, Castilla - La Mancha, Castilla y León, Cantabria, Canarias, Aragón, Andalucía
Autor: F. Scott Fitzgerald - Retold by Clare West
Caducidad: Sin fecha de caducidad
SYNOPSIS
Gatsby?s mansion on Long Island blazes with light, and the beautiful, the wealthy, and the famous drive out from New York to drink Gatsby?s champagne and to party all night long. But Jay Gatsby, the owner of all this wealth, wants only one thing ? to find again the woman of his dreams, the woman he has held in his heart and his memory for five long years. The Great Gatsby, F. Scott Fitzgerald?s masterpiece, is one of the great American novels of the twentieth century. It captures perfectly the Jazz Age of the 1920s, and goes deep into the hollow heart of the American Dream.
SINOPSIS
La mansión Gatsby resplandece con luz propia, los ricos, los bellos y famosos viajan desde Nueva York para beber champagne Gatsby toda la noche. Pero Jay Gatsby, el dueño de toda esta riqueza, sólo quiere una cosa- encontrar a la mujer de sus sueños otra vez, la mujer que estuvo en mente y en su corazón por cinco largos años. El Gran Gatsby, la obra maestra de F. Scott Fitzgerald es una de las mejores novelas americanas del siglo XX. Esta obra plasma perfectamente, la época del Jazz de 1920, y profundiza en el corazón hueco del ?Sueño Americano?
Este libro digital se visualiza a través de la aplicación Oxford Learner's Bookshelf. La app es gratuita y está disponible tanto en el App Store como en Google Play. Dispone también de funcionalidad offline, por lo que el alumno o el profesor pueden trabajar, estudiar y hacer ejercicios, aunque no dispongan conectividad. Compatible con tabletas Android y iPads.
Requisitos mínimos: OLB v3.1.3. Usuarios iOS: iOS versión 7.0 o superior, iPad 2 o posteriores. Usuarios Android: Android 4.1 o superior.