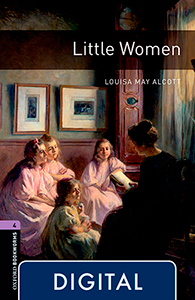 Oxford Bookworms 4. Little Women (OLB eBook)
Serie: Bookworms
ISBN: 9780194657273
Curso: Stage 4
Etapa: Stage 4
Idioma: Inglés
Asignatura: Lengua extranjera: inglés
Comunidad Autónoma: Todas, Región de Murcia, Principado de Asturias, País Vasco, Navarra, Madrid, La Rioja, Islas Baleares, Galicia, Extremadura, Comunidad Valenciana, Ciudad de Melilla, Ciudad de Ceuta, Cataluña, Castilla - La Mancha, Castilla y León, Cantabria, Canarias, Aragón, Andalucía
Autor: Louisa May Alcott
Caducidad: Sin fecha de caducidad
When Christmas comes for the four March girls, there is no money for expensive presents and they give away their Christmas breakfast to a poor family. But there are no happier girls in America than Meg, Jo, Beth, and Amy. They miss their father, of course, who is away at the Civil War, but they try hard to be good so that he will be proud of his 'little women' when he comes home. This heart-warming story of family life has been popular for more than a hundred years.
Este libro digital se visualiza a través de la aplicación Oxford Learner's Bookshelf. La app es gratuita y está disponible tanto en el App Store como en Google Play. Dispone también de funcionalidad offline, por lo que el alumno o el profesor pueden trabajar, estudiar y hacer ejercicios, aunque no dispongan conectividad. Compatible con tabletas Android y iPads.
Requisitos mínimos: OLB v5.8.1. Usuarios iOS: iOS versión 7.0 o superior, iPadOS 12.0 o posteriores. Usuarios Android: Android 6.0 o superior.