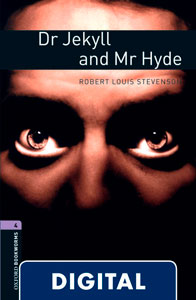 Oxford Bookworms 4. Dr. Jekyll and Mr Hyde (OLB eBook)
Serie: Bookworms
ISBN: 9780194657198
Curso: Stage 4
Etapa: Stage 4
Idioma: Inglés
Asignatura: Lengua extranjera: inglés
Comunidad Autónoma: Todas, Región de Murcia, Principado de Asturias, País Vasco, Navarra, Madrid, La Rioja, Islas Baleares, Galicia, Extremadura, Comunidad Valenciana, Ciudad de Melilla, Ciudad de Ceuta, Cataluña, Castilla - La Mancha, Castilla y León, Cantabria, Canarias, Aragón, Andalucía
Autor: Robert Louis Stevenson
Caducidad: Sin fecha de caducidad
Ideal for intermediate and more confident learners of English looking to improve or practise their English. The book is filled with useful vocabulary that is carefully graded and easy to understand, it also comes with audio, so that you can listen to the story at the same time as reading. You are walking through the streets of London. It is getting dark and you want to get home quickly. You enter a narrow side-street. Everything is quiet, but as you pass the door of a large, windowless building, you hear a key turning in the lock. A man comes out and looks at you. You have never seen him before, but you realize immediately that he hates you. You are shocked to discover, also, that you hate him. Who is the man that everybody hates? And why is he coming out of the laboratory of the very repectable Dr Jekyll?
Este libro digital se visualiza a través de la aplicación Oxford Learner's Bookshelf. La app es gratuita y está disponible tanto en el App Store como en Google Play. Dispone también de funcionalidad offline, por lo que el alumno o el profesor pueden trabajar, estudiar y hacer ejercicios, aunque no dispongan conectividad. Compatible con tabletas Android y iPads.
Requisitos mínimos: OLB v5.8.1. Usuarios iOS: iOS versión 7.0 o superior, iPadOS 12.0 o posteriores. Usuarios Android: Android 6.0 o superior.