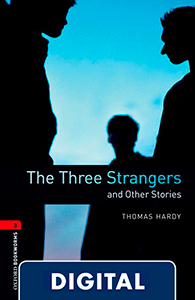 Oxford Bookworms 3. The Three Strangers and Other Stories (OLB eBook)
Serie: Bookworms
ISBN: 9780194656795
Curso: Stage3
Etapa: Stage 3
Idioma: Inglés
Asignatura: Lengua extranjera: inglés
Comunidad Autónoma: Todas, Región de Murcia, Principado de Asturias, País Vasco, Navarra, Madrid, La Rioja, Islas Baleares, Galicia, Extremadura, Comunidad Valenciana, Ciudad de Melilla, Ciudad de Ceuta, Cataluña, Castilla - La Mancha, Castilla y León, Cantabria, Canarias, Aragón, Andalucía
Autor: Thomas Hardy
Caducidad: Sin fecha de caducidad
On a stormy winter night, a stranger knocks at the door of a shepherd's cottage. He is cold and hungry, and wants to get out of the rain. He is welcomed inside, but he does not give his name or his business. Who is he, and where has he come from? And he is only the first visitor to call at the cottage that night . . . In these three short stories, Thomas Hardy gives us pictures of the lives of shepherds and hangmen, dukes and teachers. But rich or poor, young or old, they all have the same feelings of fear, hope, love, jealousy . . .
Este libro digital se visualiza a través de la aplicación Oxford Learner's Bookshelf. La app es gratuita y está disponible tanto en el App Store como en Google Play. Dispone también de funcionalidad offline, por lo que el alumno o el profesor pueden trabajar, estudiar y hacer ejercicios, aunque no dispongan conectividad. Compatible con tabletas Android y iPads.
Requisitos mínimos: OLB v5.8.1. Usuarios iOS: iOS versión 7.0 o superior, iPadOS 12.0 o posteriores. Usuarios Android: Android 6.0 o superior.