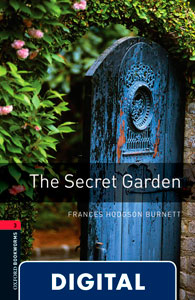 Oxford Bookworms 3. The Secret Garden (OLB eBook)
Serie: Bookworms
ISBN: 9780194656733
Curso: Stage3
Etapa: Stage 3
Idioma: Inglés
Asignatura: Lengua extranjera: inglés
Comunidad Autónoma: Todas, Región de Murcia, Principado de Asturias, País Vasco, Navarra, Madrid, La Rioja, Islas Baleares, Galicia, Extremadura, Comunidad Valenciana, Ciudad de Melilla, Ciudad de Ceuta, Cataluña, Castilla - La Mancha, Castilla y León, Cantabria, Canarias, Aragón, Andalucía
Autor: Frances Hodgson Burnett
Caducidad: Sin fecha de caducidad
Ideal for intermediate learners of English looking to improve or practise their English. The book is filled with useful vocabulary that is carefully graded and easy to understand, it also comes with audio, so that you can listen to the story at the same time as reading. Little Mary Lennox is a bad-tempered, disagreeable child. When her parents die in India, she is sent back to England to live with her uncle in a big, lonely, old house.There is nothing to do all day except walk in the gardens - and watch the robin flying over the high walls of the secret garden ... which has been locked for ten years. And no one has the key.
Este libro digital se visualiza a través de la aplicación Oxford Learner's Bookshelf. La app es gratuita y está disponible tanto en el App Store como en Google Play. Dispone también de funcionalidad offline, por lo que el alumno o el profesor pueden trabajar, estudiar y hacer ejercicios, aunque no dispongan conectividad. Compatible con tabletas Android y iPads.
Requisitos mínimos: OLB v5.8.1. Usuarios iOS: iOS versión 7.0 o superior, iPadOS 12.0 o posteriores. Usuarios Android: Android 6.0 o superior.