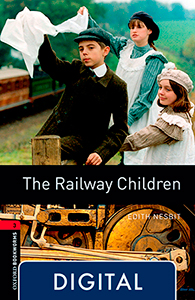 Oxford Bookworms 3. The Railway Children (OLB eBook)
Serie: Bookworms
ISBN: 9780194656719
Curso: Stage3
Etapa: Stage 3
Idioma: Inglés
Asignatura: Lengua extranjera: inglés
Comunidad Autónoma: Todas, Región de Murcia, Principado de Asturias, País Vasco, Navarra, Madrid, La Rioja, Islas Baleares, Galicia, Extremadura, Comunidad Valenciana, Ciudad de Melilla, Ciudad de Ceuta, Cataluña, Castilla - La Mancha, Castilla y León, Cantabria, Canarias, Aragón, Andalucía
Autor: John Escott
Caducidad: Sin fecha de caducidad
We have to leave our house in London,' Mother said to the children. 'We're going to live in the country, in a little house near a railway line.' And so begins a new life for Roberta, Peter, and Phyllis. They become the railway children - they know all the trains, Perks the station porter is their best friend, and they have many adventures on the railway line. But why has their father had to go away? Where is he, and will he ever come back?
Este libro digital se visualiza a través de la aplicación Oxford Learner's Bookshelf. La app es gratuita y está disponible tanto en el App Store como en Google Play. Dispone también de funcionalidad offline, por lo que el alumno o el profesor pueden trabajar, estudiar y hacer ejercicios, aunque no dispongan conectividad. Compatible con tabletas Android y iPads.
Requisitos mínimos: OLB v5.8.1. Usuarios iOS: iOS versión 7.0 o superior, iPadOS 12.0 o posteriores. Usuarios Android: Android 6.0 o superior.