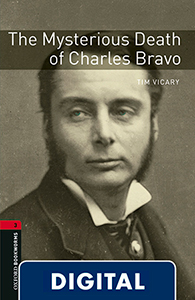 Oxford Bookworms 3. The Mysterious Death of Charles Bravo (OLB eBook)
Serie: Bookworms
ISBN: 9780194657150
Curso: Stage3
Etapa: Stage 3
Idioma: Inglés
Asignatura: Lengua extranjera: inglés
Comunidad Autónoma: Todas, Región de Murcia, Principado de Asturias, País Vasco, Navarra, Madrid, La Rioja, Islas Baleares, Galicia, Extremadura, Comunidad Valenciana, Ciudad de Melilla, Ciudad de Ceuta, Cataluña, Castilla - La Mancha, Castilla y León, Cantabria, Canarias, Aragón, Andalucía
Autor: Tim Vicary
Caducidad: Sin fecha de caducidad
Charles Bravo died from the poison antimony. He took three days to die, and the doctors could do nothing to help him. There were three people who had reasons for wanting Charles Bravo dead - Florence Bravo herself, Charles Bravo's new young wife; Dr James Gully, Florence's former lover; and Mrs Jane Cox, Florence's friend and companion. But the enquiry into the death in 1876 could not decide who the murderer was, and for more than 130 years people have wondered who did kill Charles Bravo ...
Este libro digital se visualiza a través de la aplicación Oxford Learner's Bookshelf. La app es gratuita y está disponible tanto en el App Store como en Google Play. Dispone también de funcionalidad offline, por lo que el alumno o el profesor pueden trabajar, estudiar y hacer ejercicios, aunque no dispongan conectividad. Compatible con tabletas Android y iPads.
Requisitos mínimos: OLB v5.8.1. Usuarios iOS: iOS versión 7.0 o superior, iPadOS 12.0 o posteriores. Usuarios Android: Android 6.0 o superior.