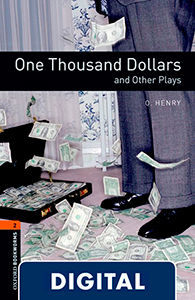 Oxford Bookworms 2. One Thousand Dollars and Other Plays (OLB eBook)
Serie: Bookworms
ISBN: 9780194655774
Curso: Stage 2
Etapa: Stage 2
Idioma: Inglés
Asignatura: Lengua extranjera: inglés
Comunidad Autónoma: Todas, Región de Murcia, Principado de Asturias, País Vasco, Navarra, Madrid, La Rioja, Islas Baleares, Galicia, Extremadura, Comunidad Valenciana, Ciudad de Melilla, Ciudad de Ceuta, Cataluña, Castilla - La Mancha, Castilla y León, Cantabria, Canarias, Aragón, Andalucía
Autor: O. Henry
Caducidad: Sin fecha de caducidad
SYNOPSIS
When the children dug a hole in the gravel-pit, they were very surprised at what they found. ?It? was a Psammead, a sand-fairy, thousands of years old. It was a strange little thing ? fat and furry, and with eyes on long stalks. It was often very cross and unfriendly, but it could give wishes ? one wish a day. ?How wonderful!? the children said. But wishes are difficult things. They can get you into trouble?
SINOPSIS
Cuando los niños cavaron un hoyo en la gravera, se sorprendieron de lo que encontraron. ?Eso? era una Psammead, un hada de la arena de hace mil años. Era una pequeña cosa, gorda y peluda y con ojos al final de largos tallos. Normalmente era desagradable y siempre estaba enfadado, pero podía conceder deseos- uno por día ?¡Qué maravilla!? dijeron los niños. Pero los deseos son cosas difíciles. Pueden meterte en problemas?
Este libro digital se visualiza a través de la aplicación Oxford Learner's Bookshelf. La app es gratuita y está disponible tanto en el App Store como en Google Play. Dispone también de funcionalidad offline, por lo que el alumno o el profesor pueden trabajar, estudiar y hacer ejercicios, aunque no dispongan conectividad. Compatible con tabletas Android y iPads.
Requisitos mínimos: OLB v5.8.1. Usuarios iOS: iOS versión 7.0 o superior, iPadOS 12.0 o posteriores. Usuarios Android: Android 6.0 o superior.