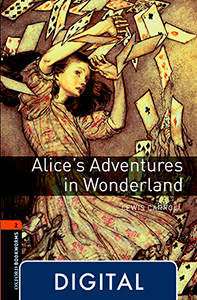 Oxford Bookworms 2. Alice's Adventures in Wonderland (OLB eBook)
Serie: Bookworms
ISBN: 9780194655897
Curso: Stage 2
Etapa: Stage 2
Idioma: Inglés
Asignatura: Lengua extranjera: inglés
Comunidad Autónoma: Todas, Región de Murcia, Principado de Asturias, País Vasco, Navarra, Madrid, La Rioja, Islas Baleares, Galicia, Extremadura, Comunidad Valenciana, Ciudad de Melilla, Ciudad de Ceuta, Cataluña, Castilla - La Mancha, Castilla y León, Cantabria, Canarias, Aragón, Andalucía
Autor: Lewis Carroll
Caducidad: Sin fecha de caducidad
SYNOPSIS
?I want to learn to fly,? Amelia Earhart tells her family one evening. But it is 1920. Flying is expensive and dangerous, and most people think it is for men, not women. But nothing can stop Amelia Earhart, and she works hard to be a pilot. Soon, she is breaking records for flying further and higher than anyone before. She shows the world that anything is possible ? for women and not just men. Life is always exciting for Amelia Earhart. At forty-one, she is nearly ready to slow down, but she wants to make one last important flight?
SINOPSIS
?Quiero aprender a volar? le dice Amelia Earhart una tarde a su familia. Pero estamos en el año 1920. Volar es caro y peligroso, y la mayoría de personas piensan que es algo de hombre, no de mujeres. Pero nada puede parar a Amelia Earhart, y así trabaja duro para ser piloto. Pronto empieza a superar récords por volar más lejos y más alto que nadie. Le enseña al mundo que todo es posible ? para las mujeres aparte de los hombres. Para Amelia Earhart la vida siempre es emocionante. A los 41, ella empieza a decaer, pero quiere hacer el último viaje que es muy importante para ella?
Este libro digital se visualiza a través de la aplicación Oxford Learner's Bookshelf. La app es gratuita y está disponible tanto en el App Store como en Google Play. Dispone también de funcionalidad offline, por lo que el alumno o el profesor pueden trabajar, estudiar y hacer ejercicios, aunque no dispongan conectividad. Compatible con tabletas Android y iPads.
Requisitos mínimos: OLB v5.8.1. Usuarios iOS: iOS versión 7.0 o superior, iPadOS 12.0 o posteriores. Usuarios Android: Android 6.0 o superior.