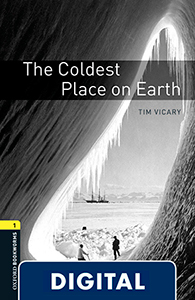 Oxford Bookworms 1. The Coldest Place on Earth (OLB eBook)
Serie: Bookworms
ISBN: 9780194654951
Curso: Stage 1
Etapa: Stage 1
Idioma: Inglés
Asignatura: Lengua extranjera: inglés
Comunidad Autónoma: Todas, Región de Murcia, Principado de Asturias, País Vasco, Navarra, Madrid, La Rioja, Islas Baleares, Galicia, Extremadura, Comunidad Valenciana, Ciudad de Melilla, Ciudad de Ceuta, Cataluña, Castilla - La Mancha, Castilla y León, Cantabria, Canarias, Aragón, Andalucía
Autor: Tim Vicary
Caducidad: Sin fecha de caducidad
SYNOPSIS
In the summer of 1910, a race began. A race to be the first man at the South Pole, in Antarctica. Robert Falcon Scott, an Englishman, left London in his ship, the Terra Nova, and began the long journey south. Five days later, another ship also began to travel south. And on this ship was Roald Amundsen, a Norwegian. But Antarctica is the coldest place on earth, and it is a long, hard journey over the ice to the South Pole. Some of the travellers never returned home. This is the story of Scott and Amundsen, and of their famous and dangerous race.
SINOPSIS
En el verano de 1919, empezó una carrera. Una carrera por ser el primer hombre en el Polo Sur en la Antártida. Robert Falcon Scott, un hombre inglés, abandonó Londres en su barco, el Terra Nova, y empezó su largo viaje hacia el sur. Cinco días después, otro barco empezó a navegar hacia el sur. Y en este barco estaba Roald Amundsen, un noruego. Pero la Antártida es el sitio más frío de la tierra, y es un largo y difícil viaje por el hielo del Polo Sur. Alguno de los viajeros nunca vuelve a sus casas. Esta es la historia de Scott Amundsen, y de su famosa y peligrosa carrera.
Este libro digital se visualiza a través de la aplicación Oxford Learner's Bookshelf. La app es gratuita y está disponible tanto en el App Store como en Google Play. Dispone también de funcionalidad offline, por lo que el alumno o el profesor pueden trabajar, estudiar y hacer ejercicios, aunque no dispongan conectividad. Compatible con tabletas Android y iPads.
Requisitos mínimos: OLB v5.8.1. Usuarios iOS: iOS versión 7.0 o superior, iPadOS 12.0 o posteriores. Usuarios Android: Android 6.0 o superior.