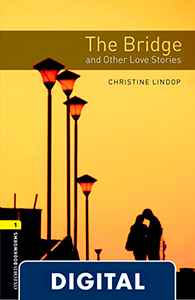 Oxford Bookworms 1. The Bridge and Other Love Stories (OLB eBook)
Serie: Bookworms
ISBN: 9780194657037
Curso: Stage 1
Etapa: Stage 1
Idioma: Inglés
Asignatura: Lengua extranjera: inglés
Comunidad Autónoma: Todas, Región de Murcia, Principado de Asturias, País Vasco, Navarra, Madrid, La Rioja, Islas Baleares, Galicia, Extremadura, Comunidad Valenciana, Ciudad de Melilla, Ciudad de Ceuta, Cataluña, Castilla - La Mancha, Castilla y León, Cantabria, Canarias, Aragón, Andalucía
Autor: Christine Lindop
Caducidad: Sin fecha de caducidad
SYNOPSIS
Luke is a good-looking young man, but he?s not very clever with words. Gemma is clever with words, but what does she want? Lucy and Becky are good friends, but what about Sam? He makes wonderful cakes, but does he make mistakes too? Nina and Dragan are in love, so deeply in love, but they live in the wrong place, at the wrong time? All love stories have moments of happiness, pain, misunderstanding, laughter, and sometimes great sadness. But love will nearly always find a way?
SINOPSIS
Luke es un hombre joven que es bastante atractivo, pero no es muy listo a la hora de emplear las palabras. Gemma en cambio sí que sabe cómo usarlas, pero ¿qué es lo que ella quiere? Lucy and Becky son buenos amigos, pero ¿Qué hay sobre Sam? Él hace tartas impresionantes, pero ¿comete errores también? Nina y Dragan están enamorados, profundamente enamorados, pero viven en la época y el sitio erróneo? Todas las historias de amor tienen momentos de felicidad, dolor, malentendidos, risas y a veces grandes tristezas. Pero el amor siempre encuentra una manera?
Este libro digital se visualiza a través de la aplicación Oxford Learner's Bookshelf. La app es gratuita y está disponible tanto en el App Store como en Google Play. Dispone también de funcionalidad offline, por lo que el alumno o el profesor pueden trabajar, estudiar y hacer ejercicios, aunque no dispongan conectividad. Compatible con tabletas Android y iPads.
Requisitos mínimos: OLB v3.1.3. Usuarios iOS: iOS versión 7.0 o superior, iPad 2 o posteriores. Usuarios Android: Android 4.1 o superior.