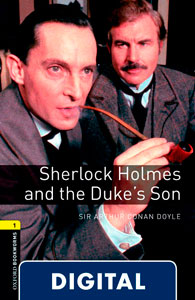 Oxford Bookworms 1. Sherlock Holmes and the Dukes' Son (OLB eBook)
Serie: Bookworms
ISBN: 9780194655231
Curso: Stage 1
Etapa: Stage 1
Idioma: Inglés
Asignatura: Lengua extranjera: inglés
Comunidad Autónoma: Todas, Región de Murcia, Principado de Asturias, País Vasco, Navarra, Madrid, La Rioja, Islas Baleares, Galicia, Extremadura, Comunidad Valenciana, Ciudad de Melilla, Ciudad de Ceuta, Cataluña, Castilla - La Mancha, Castilla y León, Cantabria, Canarias, Aragón, Andalucía
Autor: Sir Arthur Conan Doyle
Caducidad: Sin fecha de caducidad
SYNOPSIS
Dr Huxtable has a school for boys in the north of England. When the Duke of Holdernesse decides to send his young son there, that is good news for the school. The Duke is a very important person, and Dr Huxtable is happy to have his son in the school. But two weeks later Dr Huxtable is the unhappiest man in England. Why? And why does he take the train down to London and go to Baker Street? Why does he need the help of the famous detective Sherlock Holmes? Because someone has kidnapped the Duke?s son?
SINOPSIS
Dr Huxtable tiene un colegio para niños en el Norte de Inglaterra. Cuando el Duque de Holdernesse decide llevar a su hijo allí, son buenas noticias para el colegio. El Duque es una persona muy importante, Y Dr Hutxable está contento de tener a su hijo en el colegio. Pero dos semanas después Dr Hutxable es el hombre más infeliz de Inglaterra. ¿Por qué? ¿Y por qué coge un tren a Londres y va a Baker Street?
Este libro digital se visualiza a través de la aplicación Oxford Learner's Bookshelf. La app es gratuita y está disponible tanto en el App Store como en Google Play. Dispone también de funcionalidad offline, por lo que el alumno o el profesor pueden trabajar, estudiar y hacer ejercicios, aunque no dispongan conectividad. Compatible con tabletas Android y iPads.
Requisitos mínimos: OLB v5.8.1. Usuarios iOS: iOS versión 7.0 o superior, iPadOS 12.0 o posteriores. Usuarios Android: Android 6.0 o superior.