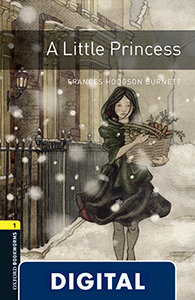 Oxford Bookworms 1. A Little Princess (OLB eBook)
Serie: Bookworms
ISBN: 9780194655019
Curso: Stage 1
Etapa: Stage 1
Idioma: Inglés
Asignatura: Lengua extranjera: inglés
Comunidad Autónoma: Todas, Región de Murcia, Principado de Asturias, País Vasco, Navarra, Madrid, La Rioja, Islas Baleares, Galicia, Extremadura, Comunidad Valenciana, Ciudad de Melilla, Ciudad de Ceuta, Cataluña, Castilla - La Mancha, Castilla y León, Cantabria, Canarias, Aragón, Andalucía
Autor: Frances Hodgson Burnett
Caducidad: Sin fecha de caducidad
SYNOPSIS
Sara Crewe is a very rich little girl. She first comes to England when she is seven, and her father takes her to Miss Minchin?s school in London. Then he goes back to his work in India. Sara is very sad at first, but she soon makes friends at school. But on her eleventh birthday, something terrible happens, and now Sara has no family, no home, and not a penny in the world?
SINOPSIS
Sara Crewe es una niña pequeña muy rica. Ella viene a Inglaterra por primera vez cuando tenía siete años, y su padre la lleva al colegio Miss Minchin en Londres. Después el vuelve a su trabajo en la India. Sara al principio está muy triste, pero ella hace amigos pronto en el colegio. Pero en su undécimo cumpleaños, algo terrible sucede, y ahora Sara no tiene familia, casa, e incluso ni un centavo.
Este libro digital se visualiza a través de la aplicación Oxford Learner's Bookshelf. La app es gratuita y está disponible tanto en el App Store como en Google Play. Dispone también de funcionalidad offline, por lo que el alumno o el profesor pueden trabajar, estudiar y hacer ejercicios, aunque no dispongan conectividad. Compatible con tabletas Android y iPads.
Requisitos mínimos: OLB v5.8.1. Usuarios iOS: iOS versión 7.0 o superior, iPadOS 12.0 o posteriores. Usuarios Android: Android 6.0 o superior.