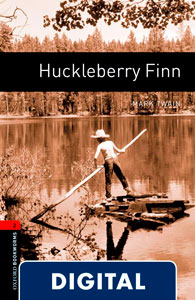 Oxford Bookworms 2. Huckleberry Finn (OLB eBook)
Serie: Bookworms
ISBN: 9780194656115
Curso: Stage 2
Etapa: Stage 2
Idioma: Inglés
Asignatura: Lengua extranjera: inglés
Comunidad Autónoma: Todas, Región de Murcia, Principado de Asturias, País Vasco, Navarra, Madrid, La Rioja, Islas Baleares, Galicia, Extremadura, Comunidad Valenciana, Ciudad de Melilla, Ciudad de Ceuta, Cataluña, Castilla - La Mancha, Castilla y León, Cantabria, Canarias, Aragón, Andalucía
Autor: Mark Twain - Retold by Diane Mowat
Caducidad: Sin fecha de caducidad
SYNOPSIS
A housewife, a tramp, a lawyer, a waitress, an actress ? ordinary people living ordinary lives in New York at the beginning of the twentieth century. The city has changed greatly since that time, but its people are much the same. Some are rich, some are poor, some are happy, some are sad, some have found love, some are looking for love. O. Henry?s famous short stories ? sensitive, funny, sympathetic ? give us vivid pictures of the everyday lives of these New Yorkers.
SINOPSIS
Una ama de casa, un vagabundo, un abogado, una camarera, una actriz- vidas normales de gente normal que vive en Nueva York al principio del siglo veinte. La ciudad ha cambiado mucho desde esa época, pero la gente es igual. Algunos son ricos, otros son pobres, algunos felices, otros tristes, algunos han encontrado el amor, otros lo están buscando. O.Henry es famoso por sus historias cortas- sensibles, divertidos, compasivos.- Nos dan imágenes vívidas del día a día de esta gente Newyorkina.
Este libro digital se visualiza a través de la aplicación Oxford Learner's Bookshelf. La app es gratuita y está disponible tanto en el App Store como en Google Play. Dispone también de funcionalidad offline, por lo que el alumno o el profesor pueden trabajar, estudiar y hacer ejercicios, aunque no dispongan conectividad. Compatible con tabletas Android y iPads.
Requisitos mínimos: OLB v3.1.3. Usuarios iOS: iOS versión 7.0 o superior, iPad 2 o posteriores. Usuarios Android: Android 4.1 o superior.